Our Mares
Click here
to view our mares.
We strive to have mares with good dispositions. Most of the mares will have been started and ridden or they will have siblings or mothers that have been proven.

Our mares have these great stallions and mares still on their papers:
Great-granddaughters of: Two ID Bartender, Red Baron Bell, Blondy's Dude, Miss Silver Pistol, Dry Doc, Mr Joes Song, Watch Joe Jack, Ima Tyree, Smart Little Lena, Freckles Playboy, Doc O'Lena, Peponita, Jackie Bee, Doc Bar, Two Eyed Jack, Highbrow Hickory, Boon Bar, Royal Blue Boon, Rocket Wrangler, Grays Starlight, Hollywood Jac 86, Bueno Chex, Peppy San, Roan Bar Go, Fancy Roan Bar, Roan Bar Country, Easy Jet, Sugar Bars, Ettabo, Strawberry Jack, Babe Cody, Bugs Alive In 75, Sir Relic, Triple Jill, Sun Frost, Casey's Charm, Miss N Cash, Stacy Smooth, Leo San, Peppy Belle, Steel Bars, Lee Cody

Granddaughters of: Playgun, Two ID Bartender, Mr Baron Red, Two Eyed Red Buck, Peptoboonsmal, Highbrow Cat, Boon San Sally, Playboys Buck Fever, Dash For Cash, Deckabo (SI 102), Docs Flying Bar from Texas A & M University's breeding program, Mr Rodeo Jack, Peponita, Wranglers Rockett, Strawberry Jack, PC Frenchmans Mark, Mr San Peppy.

Daughters of Mujer Tacky Jay. Mujer Tacky Jay is a 1987 buckskin stallion from Grantier Quarter Horses at Winnett, Montana. "Buck" brings the bloodlines of Beau Bonanza, Roys Caballero, Poco Bueno, Jet Deck and Leo.

"Buck" sired 183 registered foals from 18 foal crops. His offspring are easy going, well known, using horses. His name shows up in pedigrees not only in Montana, but around the US. We have six 2006 and 2007 "Buck" daughters. We look forward to seeing them in the broodmare bunch in a year or so after being started and ridden.

On the bottom side of the "Buck" daughters are the bloodlines of Dewesun (a grandson of Alamitos Bar), Zan Parr Bar, Poco Bueno, Two Eyed Jack, Sugar Bars, Leo, Oklahoma Star, Blackburn, Joe Hancock, Chief, King, Silver King and more.

These "Buck" mares are all 81-84% foundation and certified with the National Foundation Quarter Horse Association.

Daughters of Mr Salty Peponita. We have retained three 2008 fillies by Mr Salty Peponita for our breeding program. Mr Salty Peponita (deceased) was a 1981 100% Foundation son of Peponita and out of Hollys Serena (granddaughter of Hollywood Gold).

Daughter of Playgun. Daughter of Playgun. Anyware (Readytoware x Playgun) is a bay mare. We have her enrolled in the embryo program for 2017 for breedings to WR This Cats Smart and Bet Hesa Cat. We are execting two foals each in 2018.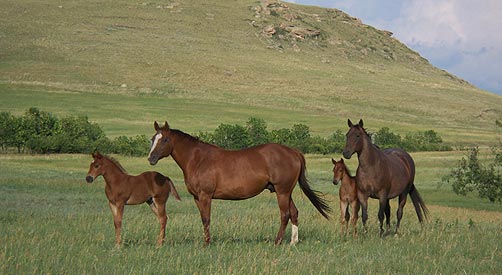 ---