Ranch History
Jodie and Warren Woroniecki grew up in western North Dakota in agricultural communities where ranching and farming were main parts of the economic structure. In the early 1900s, North Dakota was still open for homesteading and both families took the opportunity to settle in North Dakota.
North Dakota is a world leading producer of many crops. However, much of the land is unsuitable for farming, especially in western North Dakota, and many people realized the benefit of livestock in addition to farming.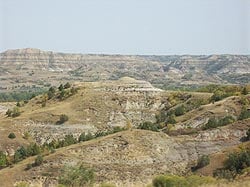 The livestock (most commonly cattle, sheep and horses) could graze where the plow could not go. It was and is very common for people to both farm and ranch. Even the larger North Dakota ranches often have farm ground that if not growing a cash crop is producing winter hay for the livestock.
The North Dakota Badlands had and continue to have a great influence in western North Dakota and the agricultural way of life. The Badlands and surrounding areas made/make for hardy cattle and good strong horses, cowboys and cowgirls. Take time to look at North Dakota sites on the links page.
The past family histories and ongoing ranching and agricultural experiences are what have brought Warren and Jodie and their children to their current places in animal agriculture and more specifically to livestock nutrition, ranching, cattle and quarter horses.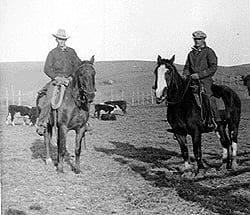 Jodie's History
Jodie grew up in McKenzie County near Watford City, ND as a fourth generation North Dakotan. She had one family ancestor arrive in the United States in the 1700s with most arriving in the 1800s and all her great-grandparents arriving in North Dakota from other parts of the US to homestead in the early 1900s. In addition to the agricultural life of farming, cattle and horses that Jodie was raised in, she is proud to recognize family relatives who were instrumental in the early years of rodeo, grain and livestock associations and those who earned their way as ranchers and local cowboys for other ranchers.
Jodie used her agricultural background to move on to experiences of teaching high school agriculture classes, advising the FFA youth organization, ranching, operating a livestock ration balancing, nutrition and feed business with Warren, and raising quarter horses. Jodie and Warren still participate with Jodie's mother in the cattle portion of her home place. Other extended family members are still actively farming and ranching in McKenzie County.

Warren's History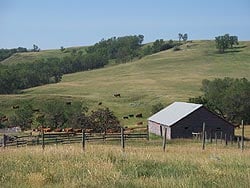 Warren has the unique experience of not only being a third generation North Dakota rancher, but also of being only the second generation of Woroniecki's to be born in the United States. Warren's Woroniecki grandfather homesteaded in Mercer County in 1911 after coming to the US from Poland some years earlier. In addition to the Woroniecki side, Warren's mother's family has a strong history in the settling of North Dakota, Hebron and involvement in local and state government. There are numerous family members still actively involved in farming, ranching and civic organizations.
Years of determination, hard work and sometimes a little luck grew the Woroniecki Ranch from that small homestead to the larger entity that it is today. Please read more on the Our Program page about the current size and operation of the ranch. The physical location and current operation of the ranch today is only one small glimpse of the lives and expansion of the family members who stayed and those who moved on to other areas of livelihood. In many case, the ranch was and is only a starting point. August 2008 found over 150 extended family members gathered at the ranch for a reunion.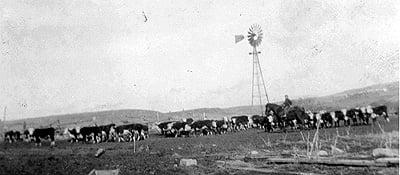 The early ranch evolved to sheep and eventually to a cattle cow/calf operation. Currently it is a commercial Hereford cow/calf operation raising its own replacement females, selling another set of replacement quality black baldie females. Steers and some heifers find their way to a family operated feedlot. They are fed here in North Dakota until being trucked directly to slaughter. Horses have always been a part of the ranch. In the early days teams were used to do the field work, haul hay and feed the cattle. With the rugged terrain horses have stayed a necessary aspect of the ranch. Raising the ranch's own quarter horses and eventually offering them to the public has been a natural progression.
Warren's expertise in the operation lies in the nutritional, rangeland management and feedlot marketing areas. In addition to providing for the nutritional growth and well-being of the ranches cattle and horses, he and Jodie also operate a feed business where Warren provides the technical work of ration balancing, feed testing and supplementation as needed. It is unrealistic to outline all the roles and contributions of the entire family, but rest assured that the ranch operates through the collective efforts of many people and their individual areas of expertise. The ranch was built by those of the past, is maintained by those here now, and will be the future for some in the next generations.
1983 Family Picture
photo by Wallin Photography, Hebron, ND
---