Walter O Rielly aka Radar was added to our program in 2012 with his first foals for us being on the ground in 2013. Apparently he was named after the character Walter O Rielly nicknamed 'Radar' on the hit TV show M*A*S*H.

We had looked for a couple of years for a foundation Driftwood bred stallion to add to our program and believe we found what we are looking for with Radar. Our intention for Radar is to try to retain fillies from him to put back on our Paddys Irish Whiskey stallions. We feel that the Driftwood, additional Poco Bueno/King P-234 and Doc's Jack Frost will complement our program. He goes to Driftwood four times and King P-234 ten times including through various Poco Bueno offspring.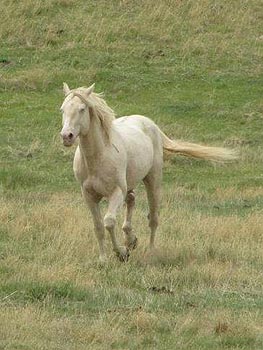 Radar's top and bottom sides are both deep in the breeding of the Stanley Johnston program in South Dakota. His grandsire Ciderwood was out of a mare, Poco Judy Sue, who was at one time considered the #1 mare of Mr. Johnston. Mr. Johnston was instrumental in introducing her sire, Poco Speedy by Poco Bueno, to South Dakota along with Orphan Drift by Driftwood Ike by Driftwood and Doc's Jack Frost. Mr. Johnston's program combined speed, disposition, size and athleticism. His program was well known across the country for producing the 'right kind' of horses for ranchers and rodeo participants. It's been quoted that if a cowboy had a Driftwood, he was well-mounted. In 2007 Western Horseman magazine chose Driftwood as number five on their list of top ten ranch horse bloodlines.

According to Monnens Quarter Horses, who acquired Ciderwood in 1987 and owned him until his death, "It is with great sadness that Cider was put down and is very missed by all of us. Cider stood 15.2 hands and weighed 1,200 pounds. He has consistently produced buckskins, duns and bays with excellent minds and dispositions. He was the living epitome of the modern Driftwood horses. Anyone could handle him at any time at any place. The kids have handled and ridden him since they were little. Cider has produced offspring that are extremely quick to learn and retain the skills and knowledge while maintaining their well-known soft mouths and light sides. His progeny are winners not only in the arena but also in the hearts of those who own and love them.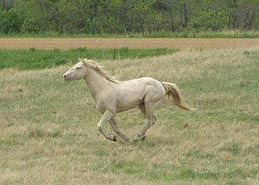 We are very thankful to have had the honor to have known and loved such a stallion. "
Radar has retained that very even disposition and he is easy to handle. He has a HUGE stride and we look forward to riding his offspring on the ranch. We are excited to introduce him to our program and hope that his offspring will be received as well as those from our other stallions. He was chosen for his bloodlines, but a bonus is that he is a perlino which means he carries two copies of the cream gene. A perlino is basically a double diluted bay. The slight orange tinge on his points are where they've been diluted down from black. He will always pass one cream gene to his offspring so they will all be either palomino, buckskin or smoky black.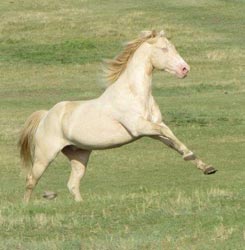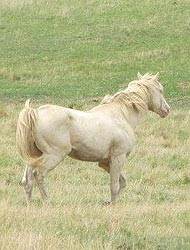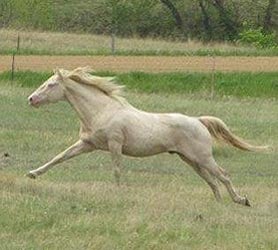 Poco Judy Sue x Poco Speedy

Poco King Tuck x Poco Bueno

Sandalwood Bay x Orphan Drift
---